Secluded Modern Wooden Home With Beautiful Minimalist Interior
This modern wooden home was once used as a munitions bunker during World War II era. Now, it is functioned as a totally comfortable place to live in, thanks to the brilliant work done by Todd Davis Architecture and Matarozzi Pelsinger contractors. Located in San Francisco, this home beautifully mixes the modern design style with generous use of wood element without having to conceal the natural texture. This results in pleasing yet unique impression with rustic finish to complement.
Starting from its wood and concrete facade, this modern wooden home design looks perfectly secluded from pedestrian walkways. It is done to ensure the privacy, which is essential for a private family home. However, you may find the meet of those elements results in a totally attractive look, despite the minimalist modern exterior style it utilizes. See also the bright yellow light strips installed to frame the entrance, which elevates the overall look in simple manner.
Despite being shut from public, it does not mean this unique modern home lacks for indoor-outdoor connection. A sunny and open-air courtyard is located at center of this home to allow every room opens here rather than to streets. As you can see, a beautiful modern concrete dining room is even located here to be totally open to the courtyard. This open room is beautifully designed in minimalist style as to allow the concrete and wood elements exposed stylishly. However, our favorite is the bird nest-like ceiling fixture and long plant bed placed on wooden table as to emphasize the nature element here.
As you enter this home, you will be welcomed by minimalist but pleasing interior style. The modern interior is beautifully done to establish a totally soothing vibe for its residents by keeping wood and concrete, in addition grey decoration, spotted everywhere. Yet, we truly love how this modern residence can also provide the light and airy atmosphere to make the nuance even more pleasing. In living room, you will also find a hint of refreshing natural green decor provided not only by a small potted plant, but also by the green rug. Don't you find this modern wood home design is simply captivating?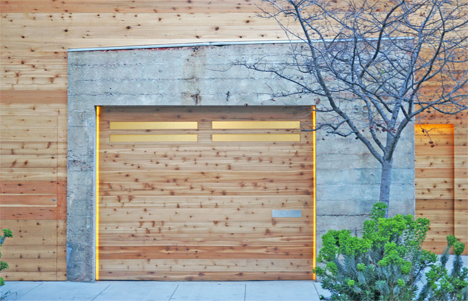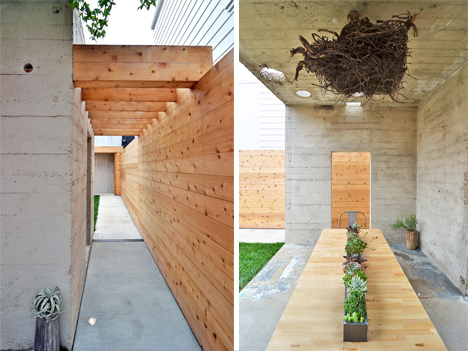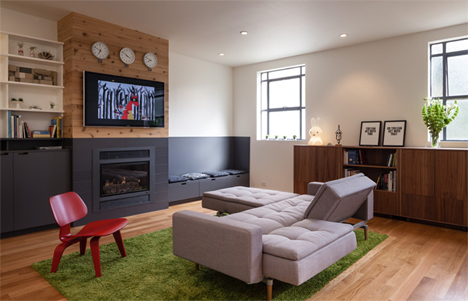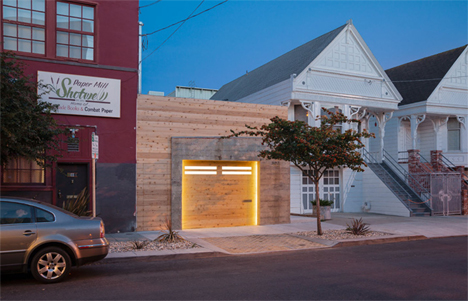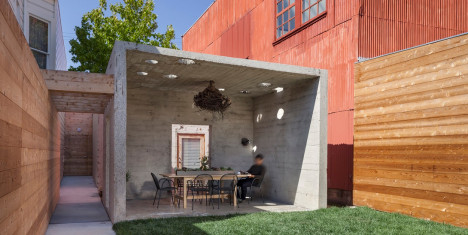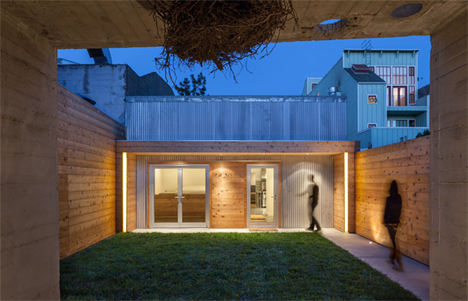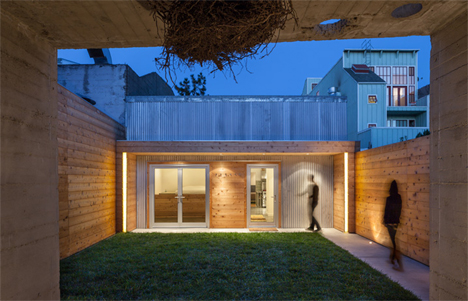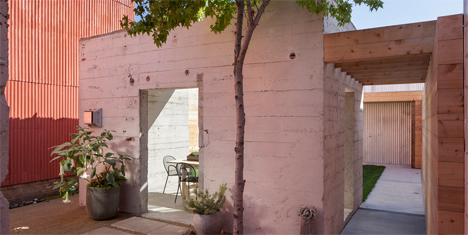 View the complete gallery
Share your Thoughts!