Cozy Black Mountain Cabin With Yellow Shade Paint Colors
Johnsen Schmaling Architects, an American-based design firm, has created a black mountain cabin which is named Stacked Cabin project in Wisconsin, USA. This project that was finished in 2012 is deliberately design for a young couple and this project was started with the limited budget of building a traditional cabin that usually has the lengthwise living room and outdoor living. But according to the owner's desire, the architect has successfully designed this cabin vertically with wooden elements as the usual cabin.
This house lies on a small space between tight trees around and have a marvelous lower landscape views. It brings the opposite mountain cabin designs to be compared by its natural surroundings. This house that contains of three level floors, have a concrete basement structure that carve to the sloping land. This strong and durable material is not only as the foundation of the building but also as the wall of the ground floor that is used as a small studio, a washroom and storage for equipment.
The second floor has the same high as the hill behind the house. It is a multi-function room with small fireplace that contains of a living room, a dining room and a kitchen in one wide space. It uses concrete flooring with glass wall on both sides that overlook to natural panorama. A solid wooden table and wooden chairs lie in the dining space in front of glass wall with valley view and white sectional sofa with wooden curved chairs as the living space on the opposite side. Small tube hanging lamps decorate this space and support the romantic lighting inside.
There are two sheets of yellow curtains separate the living and dining room with the kitchen and a room at the opposite side. With the concept of mountain modern home, these curtains have the functions for cover the kitchen if it is not used, cover the space to make a private bedroom, and also give a dramatic lighting because of its yellow shade that look like a live coals from outside the house.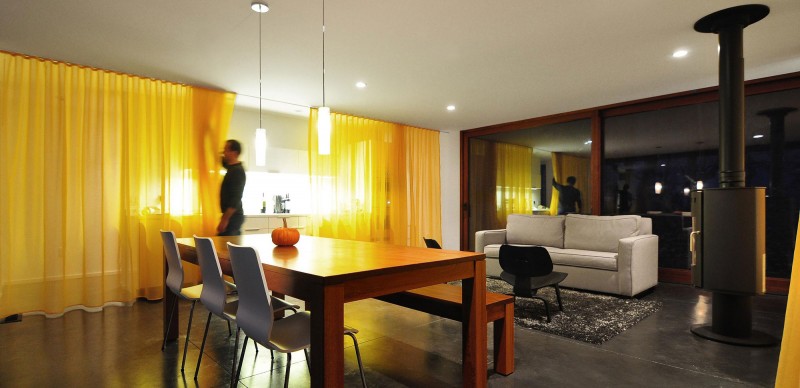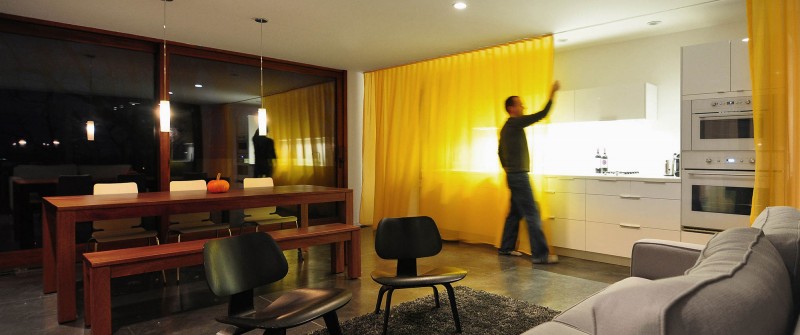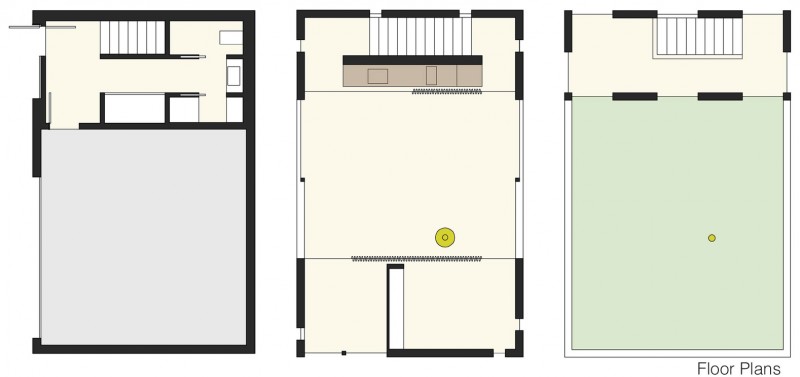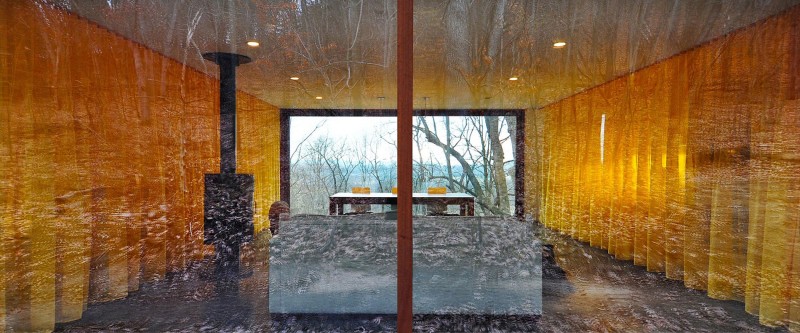 Image By : Johnsen Schmaling Architects
View the complete gallery
Share your Thoughts!